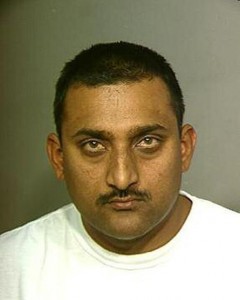 A bail agent operating out of Modesto was arrested this week on charges of soliciting gang members he met in prison to carry out a variety of felonies in addition to facing a charge of murder in the disappearance of a local man. Praveen Singh, who worked as an agent at Singh's Bail Bonds in the central California town, has been the subject of a criminal investigation regarding numerous violent crimes since 2012. The 34-year old bail bondsman used his access to the local Stanislaus County Jail to meet with imprisoned Northern Ryder gang members. He then recruited these felons to commit a variety of crimes at his behest, including a home invasion robbery and a drive-by shooting that occurred at the home of a police officer in Modesto.
The criminal investigation which began last year was prompted by a rash of serious felonies and involved investigators from the Turlock, Modesto and Ceres Police Departments as well as the Stanislaus County Sheriff's Department serving on a joint task force to see who was behind the string of criminal activity. Singh has since pleaded not guilty to any of the charges, which include soliciting the commission of robbery and shooting into an inhabited dwelling.
Although Judge Linda McFadden originally ordered the defendant held on $500,000 bail, she subsequently cut that amount in half. The District Attorney's representative argued unsuccessfully that Singh should not be allowed his freedom while he awaits trial on all of the charges because he is a likely flight risk in addition to having no regard for other people's safety or well-being. Allegedly when he commissioned various gang members to shoot into the home of his neighbor, he admitted he didn't care if any children lived there but was only worried that he would be away from his house when the shooting took place because the location of his bedroom was very close to his neighbor's home where he wanted the shooting to occur.
Although Singh has been under the watchful eye of investigators since the beginning of 2013, he was not arrested until December, causing his defense attorney to argue that there was no reason to place twice as high a bail amount as is usual for these charges. The bail bondsman has also been a person of interest as a murder suspect in the disappearance of Korey Kauffman. Kauffman was missing for more than 12 months prior to his body being discovered in a wooded area in Mariposa County by local hunters this past spring.
In addition to the charges brought against Singh for murder and soliciting felony crimes, he is also being investigated for real estate fraud as well as for violating regulations of the insurance commission. Singh was allegedly able to access gang members in prison to do his bidding by posing as a licensed private investigator in order to obtain a "jail pass." Singh allegedly accepted and used a pass issued to another private investigator in order to talk with gang members on a confidential basis without being monitored.
Although his bail is now set at $220,000, Singh has not been released and is set to return to court the second week of December. The prosecutor's office is demanding the resignation of Singh's criminal defense attorney, Frank Carson, on the grounds of conflict of interest because the lawyer will likely be called as a witness against his own client regarding Singh's conversations with imprisoned members of the Northern Ryder gang. When interviewed by television reporters, Singh's mother called her son "a very good boy."